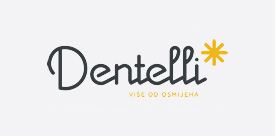 In the largest shopping center in Dalmatia Mall of Split, dentelli dental medicine clinic opens its doors.
Martina Karlo, MD. Dent. Has assembled a team of experts who share the same goals – to provide their clients with their many years of knowledge and experience in various fields with the best service, sincere care and dedication.
Individual approach and complete dedication to each client are just some of the postulates of doctors led by Nikolina Bubalović Maretić, MD. Dent. and Gordana Paić Karega, MD. Dent. spec. Orthodontics.
Work on the most complex surgical and implant cases was entrusted to Ivica Pelivan, MD. Dent. spec. prosthetics from Zagreb .
The clinic is equipped with the latest apparatus and technology, which is why we can offer our clients the best and widest range of services so that they can do everything in one place, and for these same services we offer a guarantee. Since the safety of patients and clinic employees is an absolute priority, the sterilization and disinfection procedure is carried out after each patient using precise protocols and methods.
The offer of services is tailored to service users, all users have free RTG and consultations, and in cooperation with the largest financial institutions we have adjusted payments and made available to all patients.
The most important patients – the youngest ones – are given a special place and treatment. For them, a special colorful office is equipped in which we use tricks and magic. And in the waiting room, children have their own corner with toys, coloring books and a Playstation console. Patience, smile and understanding are essential in working with the little ones, that is why Dentelli invested specifically in working with the youngest.
Dentelli is one of the few in the city that can offer a parking space almost at the door of the clinic itself by providing easier access and eliminating the need for a long-term search for a parking space.
---
Category NEWS
---