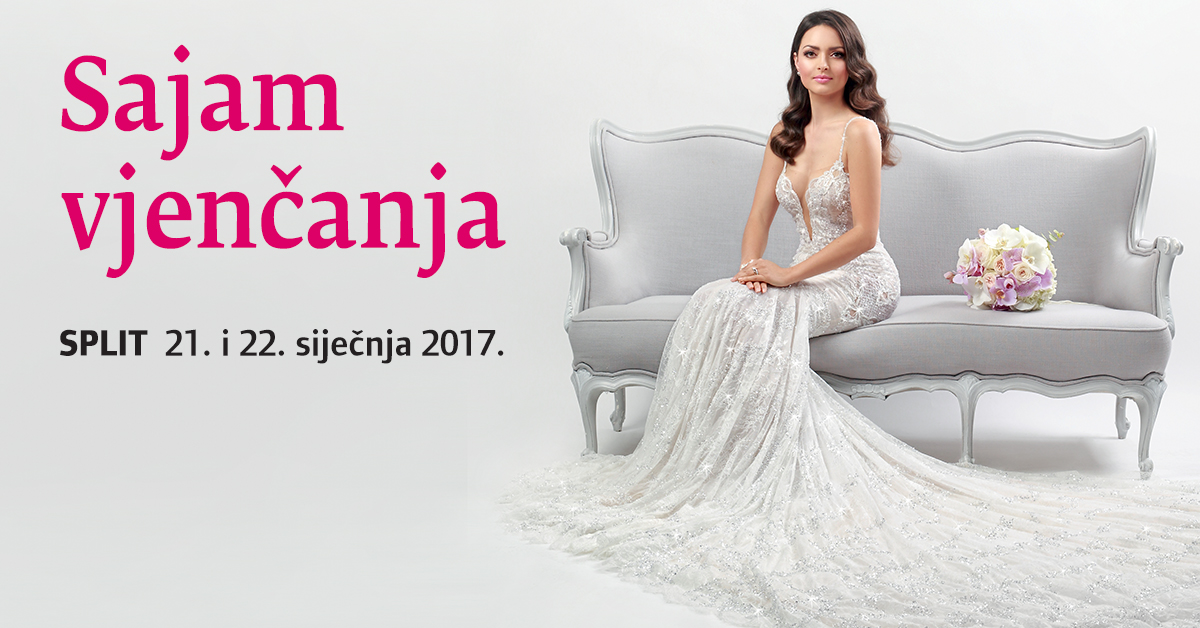 For the ninth time in a row, the Wedding Fair will open its doors in Split, on January 21st and 22nd, in the new space of the shopping center Mall of Split. In addition to the diverse offer of numerous exhibitors, visitors to the Split Wedding Fair will enjoy four fashion shows by established designers, fashion houses and wedding dress salons, as well as numerous accompanying facilities such as flower workshops, cake tastings and desserts, as well as valuable prizes in charity raffle and fair discounts.
Wedding fair in the center Mall of Split offers only the best of the world of weddings
Nineteen years of tradition is proof of the success and quality of the project that Adria Media Zagreb organizes with great love in four cities in Croatia: Opatija, Osijek, Split, and Zagreb. Weddings are an opportunity for newlyweds to show how they have chosen a new direction as a couple, families and friends to support the decision of two people, and for professionals within the wedding industry to prove how great they are at what they do. Therefore, the Split Wedding Fair abounds with creative ideas, positive energy and socializing this year, so we have no doubt that it will be a great choice for future newlyweds when creating a wedding ceremony. The wedding fair continues to support the national humanitarian project Thumbs Up! which aims to highlight the needs, problems and consequences faced by premature babies and their parents. In cooperation with the Association Palčići and the exhibitors of the fair, all visitors will be able to play a charity raffle and win interesting prizes and help the Thumbs. Humanitarian project Thumbs up! will also support celebrities who will walk the runway at the gala fashion show at 6.30pm on Saturday, January 21st and contribute to the campaign to raise awareness of the problem. The opening hours of the Fair are Saturday and Sunday from 9 am to 9 pm, and admission is free of charge.
Musician Ana Opačak - the face of the Wedding Fair Split
A special guest at Saturday's gala fashion show will be the beautiful Split musician Ana Opačak, who is also the face of the Wedding Fair. Since she appeared in the first season of The Voice - The Most Beautiful Voice of Croatia, she has been winning the radio airwaves with her songs, but no less with her smile and charm. Ana is planning a wedding to her fiancé Nikola Barac in June this year, so filming the announcement campaign for the event was a great overture for her upcoming wedding ceremony.
PROGRAM:

Saturday January 21
09.00 Opening of the fair
12.30 Fashion show
13.30 Dessert tasting
16.00 Make up & Hair presentation by Callegari, Mia Josipović Zekić and Duje Buljan
17.00 Flower workshop
18.30 Gala fashion show
21.00 Fair closure

Sunday 22 January
09.00 Opening of the fair
12.30 Fashion show
13.30 Dessert tasting
16.00 Trends in wedding fashion
17.00 Make up & Hair workshop by Ana Grgić and Jadranka Tukić
18.00 Fashion show
21.00 Fair closure