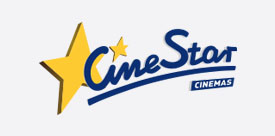 ---
---

+385 01 63 96 720 (radno vrijeme od pon do pet od 10h do 15h.)

---
---
RADNO VRIJEME: 09 - 24h
---
Zapišite si utorak, 14.08.2018., u svoje kalendare. To je dan koji se ne propušta jer su u svim CineStar kinima, kinoulaznice samo 10 kuna
Sredina kolovoza najčešće je vrijeme godišnjih odmora, ali u većem slučaju i vrijeme laganog povratka s istih. Tko kaže da ljeto u vašem gradu mora biti neispunjeno i monotono? Za sve ljubitelje velikog platna i najukusnijih kokica, CineStar je i ovoga ljeta pripremio neodoljivu priliku koja se ne propušta. U utorak, 14.08., 'CineStar dan za 10', najbolji je kino dan u godini i savršena je prilika za pogledati najnovije naslove po posebnoj cijeni od 10 kuna po ulaznici. Idealna prilika za druženje uz raznovrsne žanrove i omiljene glumce definitivno će zaokružiti i ispuniti ljeto i slobodno vrijeme.
Svake godine odaziv je sve veći pa je prošlo ljeto u filmovima na 'Danu za 10' uživalo preko 70 000 posjetitelja, čime su CineStar kina postavila novi regionalan rekord posjećenosti nekog kina u jednom danu u tjednu.
'Dan za 10' znači da ćete tog dana sve kinoulaznice moći kupiti za samo 10 kuna, a to uključuje i aktualne kino hitove kao što su: 'Nemoguća misija: Raspad sistema' s Tom Cruiseom u glavnoj ulozi, 'Špijun koji me napucao' urnebesna komedija s Milom Kunis, 'Hotel Transilvanija 3: Praznici počinju' te mjuzikl 'Mamma Mia: Here We Go Again'.
Cijena također uključuje i dodatke poput 3D, love box, VIP sjedala, dužina filma, extreme te IMAX. Akciji se pridružuje i Kaptol Boutique Cinema, ali i CineStar 4DX Mall of Split pa ćete po cijeni od 10 kuna moći uživati u najboljem novom kinu u Europi (ICTA nagrada 2018.) Kao savršen dodatak ovom kino iskustvu s pet zvjezdica, CineStar je pripremio i posebnu ponudu kokica i pića.
Svi znamo koliko nam je svaki slobodan trenutak dragocjen, stoga ne čekajte, već se pobrinite da ga iskoristite kvalitetno i nezaboravno uz svoje najdraže pred velikim kino platnima CineStar kina, gdje ćete skupiti i stvarati uspomene kojih ćete se uvijek rado sjećati. Više informacija, kao i kupnja ulaznica, moguća je online na: https://www.blitz-cinestar.hr/dan-za-10
---
KategorijaAKCIJE
---