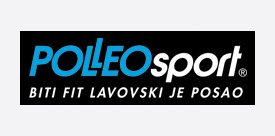 Modni zov divljine u novoj Zoe kolekciji - Untamed! Ovoga ljeta nosimo divljinu! – upravo je to modna poruka athleisure desgin branda Zoe koji predstavlja novu kolekciju visokokvalitetnih tajica - Untamed. Novi modeli tajica i sportskih grudnjaka istkani su od najboljih talijanskih materijala te obogaćeni animalnim i floralnim printevima koji podsjećaju na tople krajeve, ljetne noći i miris oceana. Kolekcija je inspirirana slobodom, ženskim instinktima i divljinom.
Novo - prva linija kupaćih kostima Nakon proširenja asortimana na različite linije odjeće, kozmetiku te fitness opremu i dodatke, Zoe u kolekciji Untamed predstavlja i svoju prvu liniju kupaćih kostima. Razigrani i drugačiji dizajnom, napravljeni od visokokvalitetnih materijala te nazvani imenima Lioness, Dragonfly, Wildcat, Ocean haze i Tropical vibe koja dozivaju divljinu, Zoe linija kupaćih kostima zasigurno će biti viđena na plažama diljem svijeta.
Najdraži model influencerica u drugačijem, chic izdanju Apsolutni must have kolekcije su kratke tajice s decentnim leopard printom koje možeš nositi i na najtoplije dane, a koje će naglasiti tvoje atribute i istaknuti struk. Kratke tajice jedan su od najvećih svjetskih trendova, a obožavaju ih i svjetske zvijezde poput Gigi i Belle Hadid, Kim Kardashian te Hailey Bieber. Tajice animalnog i floralnog printa koje nose kolekciju protkane su tehnologijama koje ih čine pogodnima za sve tipove aktivnosti – od šetnje do najintenzivnijih treninga.
---
KategorijaAKCIJE
---