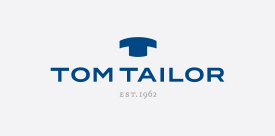 TOM TAILOR surađuje s modnom ikonom, Naomi Campbell! Svjetski poznata manekenka za Tom Tailor je dizajnirala božićnu i novogodišnju kolekciju koja će biti dostupna u studenom u Tom Tailor trgovinama diljem svijeta. Naomi Campbell utjelovljuje idealnu ženu Tom Tailor brenda jer promiče karakteristike kao što su neovisnost i hrabrost, te podržava jaču sliku brenda. »BUDITE ZA« je nova filozofija brenda koja odražava optimizam i odvažnost prema životu, modi, ali i prema kupcima.
Hamburg/Berlin, listopad 2017. Prva kapsula kolekcije Naomi Campbell za Tom Tailor bit će dostupna krajem listopada. Činit će ju elegantni modni komadi crne boje, s naglašenim zlatnim detaljima zbog čega su kao stvoreni za blagdane i novogodišnju zabavu.
Glamurozni top model o suradnji kaže: »TOM TAILOR je jedna od najpoznatijih njemačkih modnih marki i jako volim njihove kolekcije. Ipak, moja odjeća je više smjelija i glamuroznija, pa sam to pokušala prenijeti i svojim dizajnom. Zanima me kako će se kolekcija svidjeti kupcima i jako se veselim daljnjoj suradnji.«
Modna ikona Naomi Campbell je brendu TOM TAILOR dodala svježinu i smjelost, a TOM TAILOR je pokazao ulogu modnog trendsetera i istinski smisao za modu. Upravo ta tema bit će sjajan uvod za nadolazeću sezonu.
»Naomi Campbell je idealna predstavnica brenda TOM TAILOR, uspješna modna ikona koja je i dalje prisutna na svjetskoj razini. Naomi Campbell je jedan od istinskih supermodela čija popularnost i važnost u svijetu mode traje još od ranih devedesetih. Ona zna kako privući pozornost, te predstavlja neovisnu i hrabru ženu, a upravo to je ono što Tom Tailor želi pokazati u svojim kolekcijama koje su plod naše suradnje.« rekao je dr. Maik Kleinschmidt, potpredsjednik za digitalizaciju.
Kombinacije iz kolekcije NAOMI CAMPBELL za TOM TAILOR bit će dostupne u trgovinama TOM TAILOR od kraja listopada 2017.
---
KategorijaNOVOSTI
---