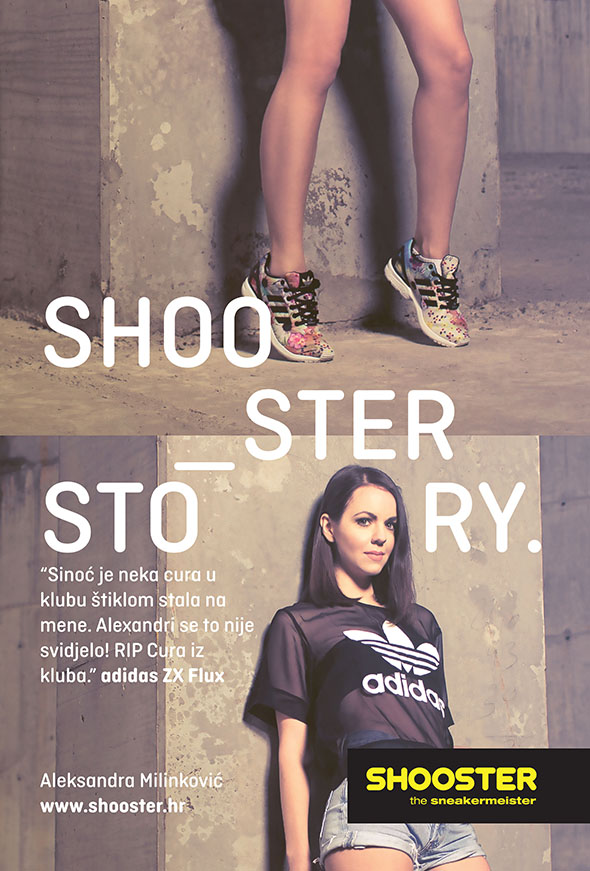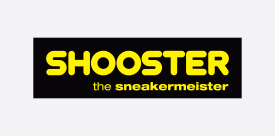 Posjetite Shooster dan subota 09.04. i nedjelja 10.04. od 9-20h. Na Trgu Jadran - prizemlje bit će smješten Shooster box u kojem izlažemo 12 top modela tenisica ali pripremamo i mnoštvo zabave i nagrada. Nema posebnih prijava i kvalifikacija, samo dođi i uskoči u neku od aktivnosti!
---
"Ja sam vintage. Ja sam klasika. Ja sam future. Ja sam adidas - ZX Flux.
Moj dizajn i print je raznovrstan, nepredvidiv. Probaj zamisliti neki, hajde probaj... velika vjerojatnost da ju je već netko napravio i da se nalazi u tvom obližnjem Shoosteru.
Odgovaraju mi ljudi koji su u pokretu 24/7/365, a očito da i ja njima odgovaram jer me samo takve osobe furaju.
Osobe koje nikad neće žrtvovati udobnost radi modnog hira. Oni žele udobnost, stil i da moj dizajn govori više o njima nego o meni. Maksimalno iskustvo i kvaliteta, to garantira svaka pruga na mom logu.
Moja vlasnica je Aleksandra Milinković. Radio voditeljica na Enter Zagrebu. Pratim je u korak u njenim snovima i ambicijama. I izlascima. Jako puno izlazaka, posla, pa opet izlazak, treninga, putovanja. Ne žalim se, zabavna je.
Sinoć je neka cura u klubu štiklom stala na mene. Aleksandri se to nije svidjelo! RIP Cura iz kluba.
I evo nas već u pogonu. Opet sam spavala samo par sati. Sad već znam rutinu. Idemo prvo na nasip, istrčati svu negativu i višak energije. Odakle joj samo taj VIŠAK?
Ja se brinem da nam nasip lakše pada pod đon. Moj patentirani TORSION® SYSTEM brine se da joj stopalo nesmetano gazi bilo koji teren. Posebni dizajnirani termo-plastični luk u mojoj sredini omogućava da prednji i zadnji dio stopala mogu imati potpuno nezavisnu kretnju te se samim time smanjuje amortizacija na zglob i koljeno. Kažem vam, pazim na Alex!
A ona mi za uzvrat svrati po nove vezice svako malo u Shooster. Mislim, pokuša... Dođe po vezice, a ode doma s još jednim parom adidasica. Klasika."
---
adidas - ZX Flux
---
Iz medija: SLOBODNA DALMACIJA
---
KategorijaAKCIJE
---