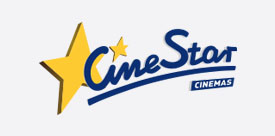 ---
---

+385 01 63 96 720 (radno vrijeme od pon do pet od 10h do 15h.)

---
---
RADNO VRIJEME: 09 - 24h
---
Dječji rođendani u CineStaru 4DX Mall of Split od sada i uz Lego kockice!
Ove godine proslave rođendana u CineStaru su pravi hit! Uz kokice i piće djeca uživaju u najnovijim animiranim ostvarenjima. Naravno, rođendansku zabavu upotpunile su i dvije najmodernije rođendaonice u kojima slavljenik i uzvanici jedu tortu, zabavljaju se uz glazbu pod disko kuglom i igraju igrice na Playstation 4 igraćoj konzoli. Prava mala zabava, zar ne?
Kao da takva zabava nije dovoljna, CineStar je u suradnji sa Lego Store Hrvatska pripremio iznenađenje uz proslavu rođendana! Za slavljenika je CineStar pripremio Lego Brickheads poklone, ali nisu izostavili ni uzvanike koji dobivaju kupon s kojim se može ostvariti 20 % popusta na kupnju u Lego Store-u Hrvatska. Naravno, u rođendaonici CineStara 4DX Mall of Split nalazit će se stol s Lego kockicama koji će upotpuniti CineStarovu već bogatu ponudu.
Više informacija pronađite na http://bit.ly/2FBkOeX
---
KategorijaAKCIJE
---