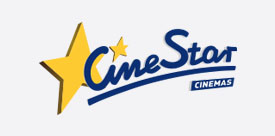 ---
---

+385 01 63 96 720 (radno vrijeme od pon do pet od 10h do 15h.)

---
---
RADNO VRIJEME: 09 - 24h
---
TRES CHIC je idealan ženski filmski provod koji se ekskluzivno održava u kinima Kaptol Boutique Cinema by CineStar Cinemas i u CineStaru 4DX Mall of Split! Na svakoj Très Chic projekciji očekuju vas vrijedni pokloni naših partnera i piće dobrodošlice uz koje ova filmska večer dobiva pravu "chic" dimenziju.
Ako ste spremne za izlazak nakon ljeta, pozivamo vas na Très Chic Specijal s filmom "Slatka mala tajna", 13. rujna od 19:30! U gl. ulozi je prekrasna Blake Lively. Očekuje vas odličan filmski izlazak, ali broj ulaznica je ograničen!
U CineStaru 4DX Mall of Split vas očekuju pokloni Fraktura, Apivita, Clarins i piće dobrodošlice Stella Artois! Ne čekajte posljednji trenutak za dogovor s prijateljicama, vidimo se na premijeri!
---
KategorijaAKCIJE
---