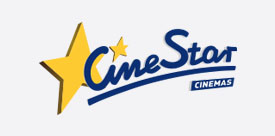 ---
---

+385 01 63 96 720 (radno vrijeme od pon do pet od 10h do 15h.)

---
---
RADNO VRIJEME: 09 - 24h
---
Kina s pet zvjezdica vas časte povodom svog 15. rođendana
Prošlo je 15 godina od otvorenja prvog CineStara u Hrvatskoj, točnije u zagrebačkom Branimir centru. Brand koji stvara emocije, zbližava ljude, okuplja obitelji, slavi svoj 15. rođendan i upravo je to razlog da pozovete nekoga u kino i zajedno uživate u jedinstvenom doživljaju koji pruža samo CineStar, kino s pet zvjezdica.
15. rođendan znači da je cijena ulaznice svih filmova 15 kuna i to samo u srijedu 28.11.2018., a prodaja kreće već danas. Za sve ljubitelje filmova, ovo je prilika koja se ne propušta, a uključuje filmove u IMAX formatu. Preporuka za pogledati, definitivno su filmovi: 'Čudesne zvijeri: Grindelwaldova zlodjela, 'Mala Italija', 'Udovice', 'Kursk: Prokletsvo dubina', crtić 'Ralph ruši internet: Krš i lom 2' te mnogi drugi. Bez obzira koliko imate godina, CineStar nudi za svakog ponešto. Akcije ne vrijedi za projekcije u Kaptol Boutique Cinema i CineStar Gold Class-u.
Ova godina CineStaru je u znaku broja 15, pa je tako nedavno u Puli otvorio baš 15. svoje kino Hrvatskoj. Udobnost i doživljaj koji pružaju dvorane CineStar kina, kao i vrhunska usluga te uvijek najmodernija svjetska tehnologija nešto su radi čega mu se zadovoljni korisnici uvijek i vraćaju, a filmovi koje nudi uvijek rado okupljaju brojne obožavatelje i upravo zato je CineStar savršeno mjesto za stvaranje uspomena. Ove godine, Blitz-CineStar dobio je važno priznanje - CineStar 4DX Mall of Split, najveće kino u Dalmaciji, dobitnik je ugledne ICTA nagrade za najbolje novosagrađeno kino u Europi.
U sklopu investicijskog ciklusa koji Blitz-CineStar provodi od svog osnutka 2003. godine do danas, unutar CineStar Cinemas grupe u Hrvatskoj i regiji otvoren je ukupno 21 multipleks, sa 132 digitalne dvorane i preko 21.000 sjedala, što – zajedno s gotovo 4,5 milijuna prodanih ulaznica godišnje – čini CineStar Cinemas najvećim i najuspješnijim kinoprikazivačem u Hrvatskoj i regiji.
Svoje kinoulaznice za ovu rođendansku proslavu možete kupiti na blagajnama, putem iCineStar aplikacije i online na: https://www.blitz-cinestar.hr/15-rodjendan-cinestara
---
KategorijaDOGAĐANJA
---