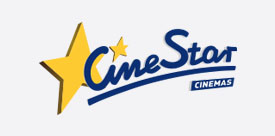 ---
---

+385 01 63 96 720 (radno vrijeme od pon do pet od 10h do 15h.)

---
---
RADNO VRIJEME: 09 - 24h
---
U CineStaru 4DX Mall of Split pridruži se PARADI FILMSKIH LIKOVA u subotu 6.10.! Vesela parada će proći po cijelom Mall of Splitu s omiljenim likovima iz crtanih filmova, a kreće u 11 sati iz lobbyja kina.
CineStar poziva sve zainteresirane roditelje i njihove mališane da se maskiraju u svoje omiljene crtane i filmske likove te prisustvuju paradi, gdje će 50 najbolji maski biti nagrađeno kinoulaznicom.
07.10. Ekskluzivno u CineStar kinu: DexRock vs RockFam show. Očekuje vas luda zabava i mnogo izazova na velikom platnu te slikanje s omiljenim YouTuberom.
Više na: http://bit.ly/DjecjiFestival_2018
---
KategorijaDOGAĐANJA
---