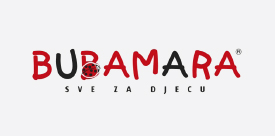 Mekani, umiljati prijatelj Psić Sveznalica je već deset godina spreman za zabavno učenje naših mališana.
U subotu, 1. 9. 2018. od 17 h nam Psić Sveznalica u svojem najvećem izdanju dolazi u posjet u 🐞Bubamaru Split 2 (Mall of Split)🐞 kako bi zajedno proslavili njegov 10. rođendan.
A tamo gdje je on, tamo je i zabava - slikajte se s njim, zagrlite ga ili pritisnite njegov trbuščić.

Očekuju vas:
🔸 iznenađenja
🔸 baloni
🔸 25% popusta na sve Fisher - Price proizvode*
🔸 15% popusta na igračku po izboru.*
Vidimo se u prodavaonici Bubamara u Mall of Split od 17 do 19 sati.
*Popust se obračunava na blagajni na proizvode s redovnom cijenom. Popusti se ne zbrajaju i ne mogu se kombinirati s ostalim popustima, klub cijenama i kuponima. Iz ponude su isključeni već sniženi proizvodi s oznakom KLUB CIJENA.
---
KategorijaAKCIJE
---